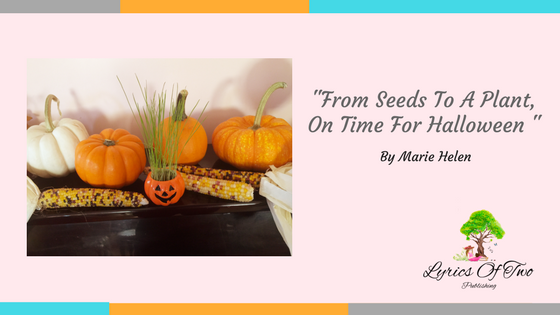 ---
Happy Halloween Everyone!
   So often during the holidays and changing of seasons, we are so busy and overwhelmed with
excitement, and emotions that we tend to overlook the beauty in the small delicate aspects of life and
the changes in nature. Consequently, I recently decided to grow a little plant, in a holiday appropriate
jack o'lantern pot (I thought it was cute, it keeps smiling as it grows the plant lol). It has been so
fascinating to watch the little seedlings sprout, and grew into these vibrant, green sheaves atop my
piano. All it really needed was a little attention, water, and I feel that music helped it grow fast as well.
Paying such close attention to the growth of the plant really got me in the mood for the season and
the holiday, and brought me a lot of joy. Hope this video brings you a little joy and a smile, and I
hope you take the time during the busy holiday season, to enjoy the little things in life and nature.
Wishing everyone a very Happy and Safe Halloween!
                                                                         -Marie Helen
---
Watch The Video Of "From Seeds To A Plant, On Time For Halloween" Here