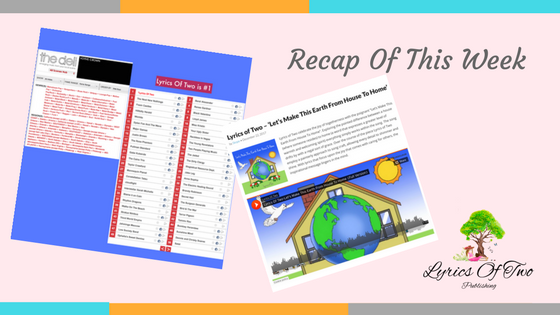 ---
Another busy week for Lyrics Of Two below is a recap!
Song Review:  Since the release of "Let's Make This Earth From House To Home" the song has
continued to receive some terrific reviews. Truly grateful for all of the kind words received from the
reviewers that take the time to listen to the song so carefully. It is a such a pleasure to gratefully say
that the song has once again received a very positive review. This time from Scope Magazine. Thank
you very much Nick Scent and Scope Magazine for the kind words. You can read the song review here.
---
Lyrics Of Two #1 On The Deli Charts:  Lyrics Of Two had another great week on the Deli Music charts
by remaining at the #1 spot at the categories/genres, and regions listed. See the full list here.
---
Commemorating this year's winter solstice: Watching across the horizon on the day with the shortest
of daylight but with the longest night of the year. Much like how the small yet fascinating aspects of
nature are celebrated in Marie Helen's just finished latest poetry book titled "Celebrating The Holidays
And Seasons With Poetry And The Smaller Things In Nature".Today's natural phenomenon known as
the winter solstice, reminds one to pay attention to and celebrate the small things in nature during
the changes in seasons, as they are ever changing.