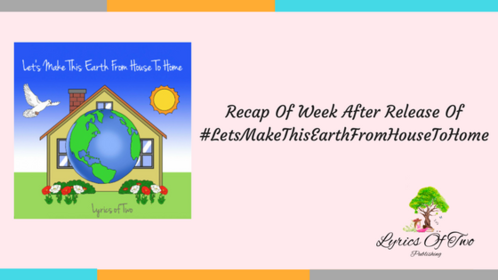 ---
    Hi Everyone! So much has happened this week upon the release of
#LetsMakeThisEarthFromHouseToHome. So grateful for all of the kind
words, and positive feedback the song continues to received from listeners,
radio stations and music reviewers. #LetsMakeThisEarthFromHouseToHome
has received really fantastic song reviews. Thank  you to the song review  
writers for listening to the song and for taking the time to review it.
   The song has also made it's way on radio charts already with 
#LetsMakeThisEarthFromHouseToHome being 6th on  Valley89.5 Fm Top 15
Chart in Australia as well as the Indie Radio Alliance Top 10 Chart  this
week just days after it's release!  #LetsMakeThisEarthFromHouseToHome
will also be on the voting list  for the Top 15 songs on Belter Radio in the
United Kingdom this upcoming week, the voting list will be up soon
Thank you very much to all the radio stations globally who have picked up
the song for airplay on their stations and have placed it on their rotation
playlists.
   It is always such a trilling experience to hear your song played on the
radio, and even more so when the song resonates with the listeners after it
has been played around the world. It is even more heartening to hear that
so many of you can relate to the message of kindness, compassion, and
unity that is conveyed throughout the song. Very much appreciate all the
kind comments received from radio listeners, as well as soundcloud,
reverbnation and on social media about the song and especially about the
   Also a radio airplay reminder that this Sunday August 6th, 2017  Lyrics
Of  Two and  #LetsMakeThisEarthFromHouseToHome will be on the Isaac
Banks Show on Valley 89.5 Fm in Canberra, Australia at 7am to 9am AES
which is 2pm-4pm PST.  To hear the show click HERE . 
In addition #LetsMakeThisEarthFromHouseToHome will also be on  
"Karen's Indies On Sunday" show in the United Kingdom  at 10 pm UK
time which is 2pm PST. You can tune into the show HERE  Thank you very
much everyone, enjoy the shows, and have a fantastic week ahead.
---
"Let's Make This Earth From House To Home is now available at all music retailers below are links to a few: